Pestmaster® Services Of Tallahassee, FL
The Panhandle's Pestmaster® Services was founded in 2018 by sixth-generation Tallahasseeans. Our family knows Tallahassee inside and out, from the cobblestone streets to the senate-themed burger shops on Capitol Hill. We love this community, which is why we offer only the safest and most comprehensive pest control solutions in the area. With our expertise in Integrated Pest Management to our commitment to sustainable practices, we promise to make your property safer – and feel more like home in the process.
Why Choose Pestmaster® Services?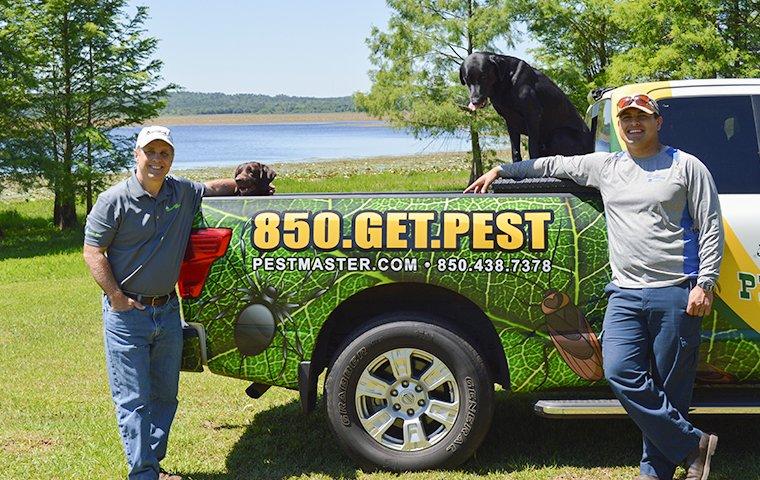 As lifelong Floridians, we understand how crazy pests can get in the Panhandle better than anyone. With this understanding, we offer the following:
Pest Management with Environmentality®, meaning we never use products that harm your property, family, pets, or the surrounding environment

Family-owned customer service, communicating our plans of action, and answering all of your pest-related questions before we get to work on your property

Monthly, quarterly, or recurring services to maintain your property's pest-free status

Home pest control and commercial pest management services

Licensed and certified GSA contracting, allowing us to tackle larger projects and government properties with ease
By balancing over two decades of pest control experience with our unique set of licenses and our genuine customer service, Pestmaster® Services of Tallahassee has something for every property in the Florida Panhandle. See for yourself today!
Our Pestmaster® Services Promise
Our family has lived in Tallahassee for six generations. We think the city is beautiful. Between Tallahassee's vibrant businesses, its impressive architecture, and the lovely beaches along the Panhandle, we wouldn't live anywhere else, that's why we're committed to offering our community only the best pest control services. With our compassionate customer service, our comprehensive pest strategies, and our commitment to the environment, we promise to make your Florida property a cleaner, safer place, making our community healthier in the process. Reach out today, and we'll show you what expert pest control with care looks like.